Cootamundra / Tumut Branch Rail Line

0

Planing

People in Gundagai were pressing for a railway line even before the railway had reached Cootamundra in 1877.

A fire at the Grand Palace, Sydney in 1882 caused a delay as the building which temporarily housed all the plans, reference material and other document were lost and a new survey had to be carried out.

In 1883 a 25ft map for a line from Cootamundra to Gundagai was produced showing the route, was posted at the court house in Gundagai. The start of construction is not recorded but articles appeared in newspapers at the end of that year showing work in progress.

Controversy arose in mid 1884 over the site of the station in Gundagai before the existing site was decided.

The Government took over the line to Gundagai on 1 June 1886 the cost was $540,000, the contractors trains were operating for some time before that date taking passengers, goods and mail.

The fares on opening day for Gundagai to Cootamundra were 1st class 6/6 (65 cents) 2nd class 4/3 (42 cents).

A report was produced, in 1884, for provision of a line from Gundagai to Tumut at an estimated cost of $774,534.

It was some 13 years later in 1899 that the extension to Tumut came before the Government, though survey work had been completed at the end of 1884 for an estimated cost of near $800,000.

0

Opening

Gilmore was opened as Killarney in 2 December 1903 and changed to Gilmore in 5 January 1904. It was the junction for Batlow and comprised of platform, goods shed and loading bank with one siding.

Tumut was opened on 12 October 1903.

The Batlow line opened on 10 May 1922.

0

Tumut Railway Yards

Comprising a platform, goods shed, loading bank and engine shed, coal stage, water tank, a 50 foot (15.14 metre) turntable and a foot warmer boiler (article). Cattle and sheep races were also added.

Sidings were for BP (COR), Tumut Co-op Dairy Co. and the Freezing Works.

0

The Trains

Until the end of steam, train services were handledby a single class of locomotive, the 1877 vintage 19 class, specially fitted with ex Baldwin bogie tenders to enable the use of the 50ft turntables. The trains were short, limited to 100 tons by steep 1 in 25 gradients and sharp curves. Prior to the end of steam in the 1960's, services ran four times weekly as mixed or goods trains with passengers.

Services between Cootamundra and Tumut saw a variety of other smaller locomotives including 12 class on passenger services and 25 class on freight workings. By the 1950's these locomotives were usurped by C30T fitted with 6 wheel tenders to enable them to be turned on the 50 ft (15.14 metre) diameter turntable at Tumut.

Passenger services were supplemented with 600/700 class railcars and CPH railmotors.

0

Closed

All services were withdrawn on 16-1-1984 after storms had washed away a number of sections of track.

0

Mail:- Tumut History, PO Box 132, Tumut, NSW 2720, Australia

"Information is our only purpose; that accomplished, we shall consider that we have done our duty."  Reference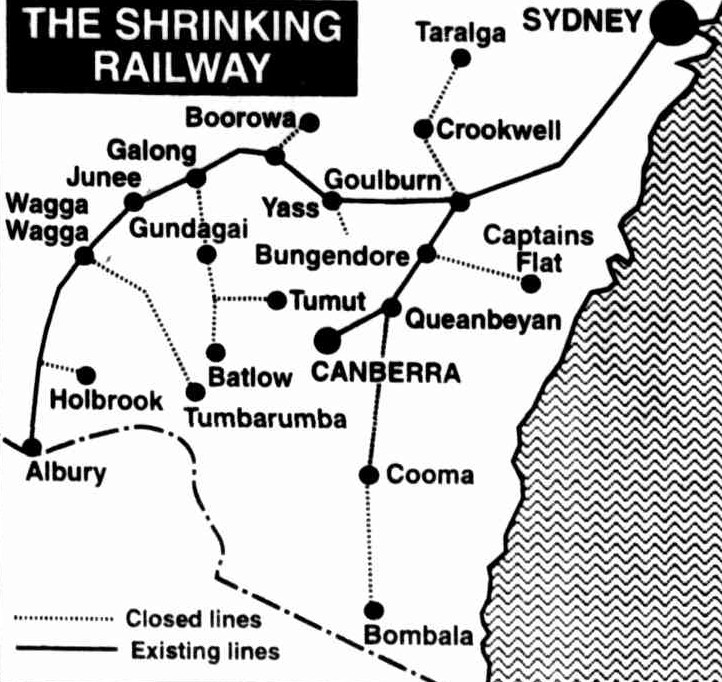 More reading from newspapers

Rail Road to Port Phillip? html 5 April 1845 (3,213 words)

Railway Visionary and Ridiculous html 18 April 1845 (3,328 words)

Railways html 18 May 1846  (1,544 words)

Tumut Railway html 22 September 1884 (151 words)

Gundagai to Tumut Railway html 3 July 1896 (241 words)

Gundagai-Tumut Railway, The Tumutians Intoxicated With Joy html 18 September 1886 (128 words)

The Tumut Railway html 17 February 1899 (196 words)

Gundagai to Tumut Railway html 22 November 1899 (134 words)

Gundagai-Tumut Railway, to Proceed html 7 August 1900 (47 words)

The Gundagai-Tumut Railway html 23 October 1900 (1,399 words)

Tumut Railway Completed  html 5 June 1903 (90 words)

Well-worn Rail Tracks of the Past Lie Idle html 26 June 1994 (1,162 words)

Highlighting History of Tumut's Railway Precinct read 6 November 2015 (683 words)